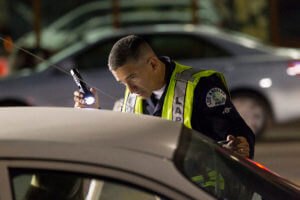 DUI checkpoints, also called sobriety checkpoints, are those areas where police set up roadblocks and traffic stops that aren't tied to specific crimes, but are randomly chosen to serve as a deterrent against drunk driving. Many drivers over the years have questioned whether or not DUI checkpoints are legal or constitutional, citing probable cause and other legal concepts with which many are not actually familiar.
The truth is, in California, the law allows for these traffic stops, but they are bound by certain regulations. Learn about California DUI checkpoint laws, what to do at a checkpoint, and how a Sacramento DUI lawyer can help you if you are arrested.
Checkpoint Laws
California code allows for sobriety checkpoints. This was upheld in Ingersoll v. Palmer, 743 P.2d 1299 (Cal. 1987) as valid under the state and federal constitution. However, the Supreme Court set certain standards that have to be met to abide by the law and ensure that motorists' rights are protected at these roadblock checkpoints.
In order to remain compliant with rights, the police must ensure that:
The criteria used to determine which motorists are stopped must be able to be demonstrated as neutral and unbiased
All operational decisions regarding the checkpoint have to be made by supervising officers
Police must ensure that proper safety precautions are in effect at all times
The time and duration of the checkpoint must reflect good judgment
The location must be reasonable
Indications of the official nature of the checkpoint must be clear
Detaining of drivers should be minimal
Advance public advertisement of the roadblock is required
You will note that several of these requirements are somewhat subjective in nature, which can be key should you require defense against DUI charges from being stopped at such a checkpoint.
Checkpoints and Probable Cause
Most people have heard of the concept of probable cause, but many don't understand exactly how it works. It's true that the Constitution requires a police officer conducting a traffic stop have solid reason to do so. However, rulings such as the one cited above have been upheld by the Supreme Court, which states that the dangers of drunk driving require a modicum of allowance, and that sobriety checkpoints are a minimal intrusion.
As such, the courts have granted an exception to Constitutional search and seizure where sobriety checkpoints are concerned. Because of this, however, the NHTSA (National Highway Traffic Safety Administration) has released police guidelines for the administration of these traffic stops. What this means is that regardless of probable cause, so long as the above guidelines are followed, sobriety checkpoints are allowed in California. In fact, the CDC has released studies that indicate sobriety checkpoints could prevent up to 10 percent of all DUI-related deaths. While that doesn't seem like a lot, by the numbers it translates to a lot of lives saved.
What Happens at a Sobriety Checkpoint?
A DUI checkpoint stop should be very brief and relatively painless, overall. You will pull up to the checkpoint and stop, where a police officer will briefly interview you to determine whether or not you are fit to be behind the wheel of the car. Answer any questions put to you politely and directly. Don't try to joke around or be sarcastic.
If the officer feels that there is a possibility you may be intoxicated, they may ask you to pull over and take a sobriety check. You have the right to refuse such a check, but if you do, your license may be suspended and the police officer can arrest you and request a chemical blood alcohol test. The law of implied consent states that just by getting behind the wheel of the car you have already consented to such a test if you are arrested.
If You Are Arrested
If you're arrested for DUI it's vital that you act fast. DUI convictions can carry a ton of penalties from loss of your driver's license to jail time and thousands of dollars in fines. When you are arrested you have only a limited amount of time to act, and it's important to remember that you are entitled to legal representation.
You have the right to have someone in your corner who will fight to protect your rights and ensure you get the best possible representation in your case. If you are facing license suspension, you've got 10 days to file for a hearing to avoid serious penalties.
Contact an Attorney
If you have been arrested for DUI in the Sacramento area, don't wait. Call me today at 916-444-1400 or use my email contact form.  I have over 25 years of experience in California DUI law.  I can protect you every step of the way.